Locascio Family Dentistry, Elk Grove's Best Choice for Affordable Braces.
Locascio Family Dentistry
8101 Laguna Blvd #1
Elk Grove, CA 95758
---
Office Hours
*Open Every Other Mon & Fri
Having a gorgeous smile is an incredible asset.
Orthodontic treatment is a worthwhile investment leading to a beautiful and healthy smile. It may require some dedication in terms of time and money, but the result will be well worth it as the benefits
Braces treatment can positively impact all aspects of life — from improved self-esteem and a more successful social life to improved career opportunities. Imagine enjoying a perfect smile for a lifetime - that can be your future!
Hi, I'm Dr. Locascio at Locascio Family Dentistry in Elk Grove. I'm enthusiastic about helping my patients achieve the smile they deserve. I offer orthodontic metal braces and Invisalign to straighten teeth and improve my patients' smiles'.
There's nothing quite like seeing the confidence boost in my patients once they have a beautiful, straight smile. I enjoy getting to know my patients and working with them to create a personalized treatment plan that fits their needs. Whether routine dental care or orthodontic treatment, I strive to provide top-notch care in a warm and welcoming environment. If you want to transform your smile, see me and the dental team at Locascio Family Dentistry. We are here to help!
Braces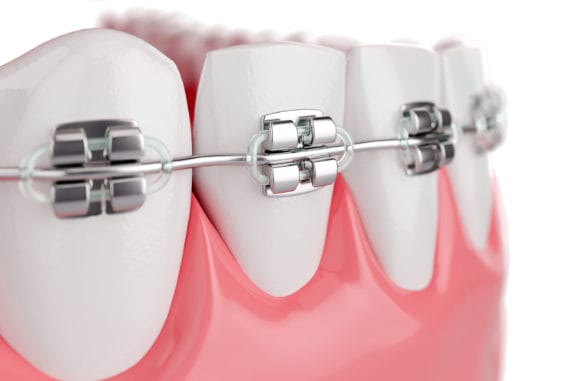 Braces fix mismatched bites and straighten teeth. Brackets are affixed to the front of the teeth, and a wire goes through them. Periodically tightening the wire gently moves the teeth into place. The goal of braces is to create a straight, symmetrical, and healthy-looking smile.
As a parent, you might wonder if braces are the right choice for your child.
Straight teeth offer numerous benefits beyond just a beautiful smile:
Improved oral health: Crooked or misaligned teeth make cleaning your child's teeth difficult, leading to tooth decay and gum disease. These issues are less likely with straight teeth.
Straight teeth can reduce the risk of injury: Crooked teeth can protrude and break or chip easily in an accident. Straight teeth minimize these injuries.
Improved self-esteem: Straight teeth boost your child's self-esteem and self-image. This can improve social relationships and life outlook.
Better speech: Crooked teeth may affect tongue positioning and pronunciation. Straight teeth can improve speech and pronunciation.
Better chewing: Misaligned teeth make biting and chewing harder. Straight teeth ensure that kids chew and digest food much better.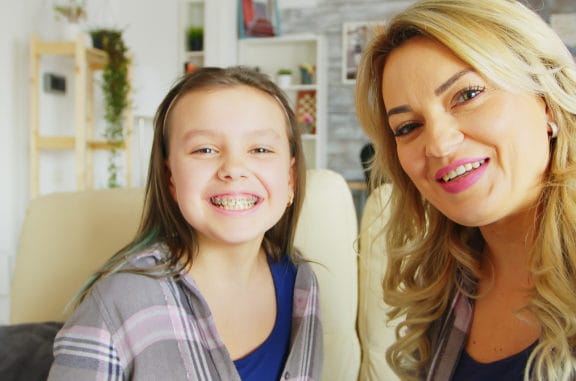 Who are braces for?
Children and teens with misaligned teeth or jaws need braces. Adults with bite difficulties or crooked or crowded teeth can also benefit from braces. Adults who have received orthodontic treatment but didn't use their retainers as prescribed may need braces.
How long do braces take to work?
The time it takes Braces to work depends on the degree of the misalignment and the patient's response to treatment. On average, braces could take 12 to 24 months to work, with some a little longer. The time depends on the case's intricacy, the patient's age, and their commitment to following Dr. Locascio's instructions.
Does dental insurance cover the cost of Braces?
Dental insurance plans vary. Some dental insurance policies include braces, while others don't. Ask your insurance provider whether your dental plan covers braces. They may tell you about your plan's orthodontic limits or exclusions. Even if your dental insurance covers braces, you may have to pay a percentage out-of-pocket. Before treatment, discuss payment with Dr. Locascio . Financing is available for those who qualify.
How much do braces cost?
Traditional metal braces cost several thousand dollars. The exact cost of braces depends on your treatment plan. Book a consultation with Dr. Locascio for a braces cost assessment.
Financing Options
Book a Consultation
Getting Braces is a choice that requires an informed decision. Request a consultation with Dr. Locascio . Every case is unique. Dr. Locascio will discuss the concerns, pros and cons, and other options that might suit your goals.
Request a Braces Consult
The first step towards improving your smile is a no-risk consultation with Dr. Locascio.