Pediatric Dental Care - Elk Grove, CA
Give Your Child A Healthy Smile At Locascio Family Dentistry
Welcome to Locascio Family Dentistry in Elk Grove!
At Dr. Locascio Family Dentistry, we believe a healthy smile begins in childhood. Our dedicated, experienced team provides exceptional pediatric dental care to children in the Elk Grove community. With our child-friendly approach and commitment to gentle dentistry, we create a positive and comfortable dental experience for your little ones.
Why Choose Us for Pediatric Dentistry?
Our highly trained dentist and staff offer exceptional pediatric dental care. We understand the unique needs of children and strive to make every visit enjoyable.
Welcoming Environment: Our team will help children feel at ease. We create a warm and friendly atmosphere from our colorful waiting area to our fun and engaging treatment rooms.
Comprehensive Services: We offer a wide range of pediatric dental services, including preventive care, dental check-ups, fluoride treatments, sealants, and treatments. Your child's oral health is our top priority.
Educational Approach: We believe in educating parents and children about proper oral hygiene. We provide helpful tips and resources to ensure a lifetime of healthy smiles.
Please schedule an appointment today and let us partner with you in your child's dental journey. Together, we can lay the foundation for a lifetime of optimal oral health.
About Us:
At Dr. Locascio Family Dentistry, we take pride in and are committed to serving the Elk Grove community. Every child deserves exceptional dental care. We understand that a positive dental experience during childhood sets the stage for a lifetime of healthy smiles.
Our team of skilled dentists and caring staff are passionate about pediatric dentistry. We stay up-to-date with the latest techniques and technologies to ensure your child receives the highest quality care. Our gentle and compassionate approach helps children feel comfortable and at ease.
We are proud members of the Elk Grove community and strive to make a difference in the lives of local families. Our commitment to exceptional dental care and personalized attention has made us a trusted choice for pediatric dentistry.
Services:
Our pediatric dental services meet the unique needs of children at different stages of their dental development. We provide comprehensive care to ensure your child maintains a healthy and beautiful smile.
Preventive Care:
Regular dental check-ups, cleanings, and screenings to prevent dental issues and promote oral health.
Fluoride Treatments:
Application of fluoride to strengthen teeth and protect against cavities.
Sealants:
Protective coatings are applied to the chewing surfaces of teeth, especially back teeth, to prevent decay.
Restorative Treatments:
Gentle and effective treatments for dental cavities, including fillings and crowns.
Orthodontics:
Evaluation and early intervention for bite problems and teeth alignment issues.
Emergency Dental Care:
Prompt and compassionate care for dental emergencies, such as toothaches, broken teeth, or injuries.
Our experienced team will work closely with you and your child to create personalized treatment plans based on their needs. We prioritize their comfort and provide education on maintaining good oral hygiene habits.
Contact Us:
We would love to hear from you and answer any questions you may have. Contact Dr. Locascio Family Dentistry today to schedule an appointment for your child's dental needs.
We look forward to welcoming your family to our practice and providing the highest level of pediatric dental care in Elk Grove!
Child's First Pediatric Dental Visit
According to guidelines from the American Academy of Pediatric Dentistry (AAPD), your child should be seen by his/her pediatric dentist no later than six months after the eruption of the first tooth.
This visit mainly will involve counseling on oral hygiene, habits, and on the effects that diet can have on his/her teeth. It is NOT recommended to wait until age 3 to visit your dentist and as a general rule, the earlier the dental visit, the better the chance of preventing dental problems.
Children with healthy teeth chew food easily, learn to speak clearly, and smile with confidence. Start your child now on a lifetime of good dental habits.
The AAPD also recommends a dental check-up at least twice a year; however some children that may be at a higher-than-average caries risk may need to be seen more often.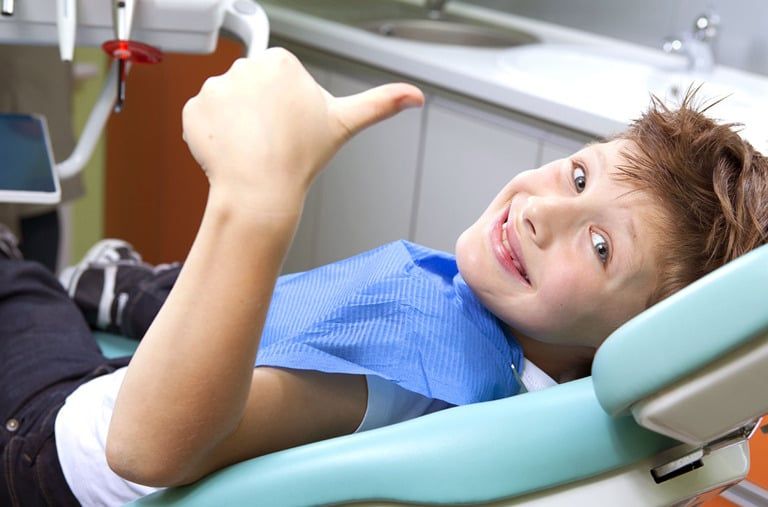 Children's Tooth Development
Children continually get new teeth from age 3 months to the age 6 years. Most children have a full set of 20 primary teeth by the time they are 3 years old. As a child nears the age 6, the jaw grows making room for the permanent teeth. At the same time, the roots of the baby teeth begin to be resorbed by the tissues around them and the permanent teeth under them begin to erupt.
Primary teeth are just as important as permanent teeth for chewing, speaking and appearance. They also serve as placement holders for the permanent teeth. Primary teeth also provide structure to help shape the child's face.
There are gaps between my child's teeth, is this normal?
It is normal and even "ideal" for baby teeth to have spacing between each other.
Keep in mind that when permanent teeth erupt, their size will be considerably larger than that of baby teeth. As the baby teeth are lost, the erupting permanent tooth will quickly take advantage of this excess space.
Children who do not have spacing in their primary dentition can have a higher incidence of crowding (crooked teeth) in the permanent dentition.
Request an Appointment
Take the first step towards a beautiful smile with an appointment at Locascio Family Dentistry.