Kids Dentistry - Elk Grove, CA
Give Your Kid A Healthy Smile At Locascio Family Dentistry
Child's First Pediatric Dental Visit
According to guidelines from the American Academy of Pediatric Dentistry (AAPD), your child should be seen by his/her pediatric dentist no later than six months after the eruption of the first tooth.
This visit mainly will involve counseling on oral hygiene, habits, and on the effects that diet can have on his/her teeth. It is NOT recommended to wait until age 3 to visit your dentist and as a general rule, the earlier the dental visit, the better the chance of preventing dental problems.
Children with healthy teeth chew food easily, learn to speak clearly, and smile with confidence. Start your child now on a lifetime of good dental habits.
The AAPD also recommends a dental check-up at least twice a year; however some children that may be at a higher-than-average caries risk may need to be seen more often.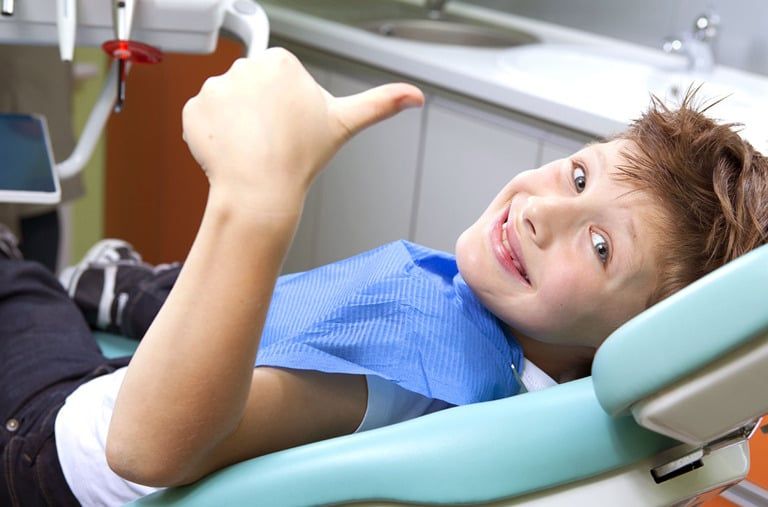 Pediatric Dental X-Rays
In general, children need x-rays more often than adults. Their mouths grow and change rapidly. They are more susceptible to tooth decay than adults. The American Academy of Pediatric Dentistry recommends x-ray examinations every six months for children with a high risk of tooth decay. Children with a low risk of tooth decay require x-rays less frequently.
X-rays allow dentists to diagnose and treat health conditions that cannot be detected during a clinical examination. If dental problems are found and treated early, dental care is more comfortable and affordable.
X-ray films detect:
Cavities
Erupting teeth
Diagnose bone diseases
Evaluate the results of an injury
Plan orthodontic treatment
Particular care is applied to minimize the exposure of young patients to radiation. With contemporary safeguards, the amount of radiation received in a dental x-ray examination is extremely small. The risk is negligible. In fact, dental x-rays represent a far smaller risk than an undetected and untreated dental problem.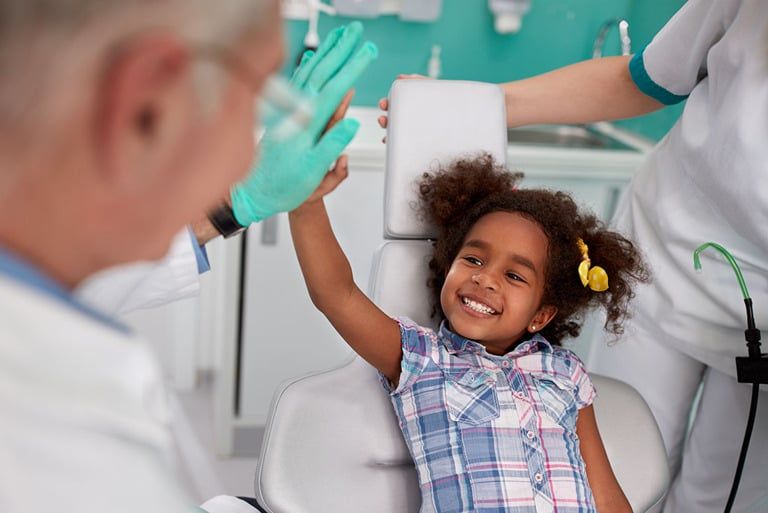 Children's Tooth Development
Children continually get new teeth from age 3 months to the age 6 years. Most children have a full set of 20 primary teeth by the time they are 3 years old. As a child nears the age 6, the jaw grows making room for the permanent teeth. At the same time, the roots of the baby teeth begin to be resorbed by the tissues around them and the permanent teeth under them begin to erupt.
Primary teeth are just as important as permanent teeth for chewing, speaking and appearance. They also serve as placement holders for the permanent teeth. Primary teeth also provide structure to help shape the child's face.
There are gaps between my child's teeth, is this normal?
It is normal and even "ideal" for baby teeth to have spacing between each other.
Keep in mind that when permanent teeth erupt, their size will be considerably larger than that of baby teeth. As the baby teeth are lost, the erupting permanent tooth will quickly take advantage of this excess space.
Children who do not have spacing in their primary dentition can have a higher incidence of crowding (crooked teeth) in the permanent dentition.
Early Childhood Caries
Childhood cavities, also now known as "Early Childhood Caries" is an aggressive form of caries that occurs in infants and very young children. It is typically associated with prolonged consumption of liquids containing sugar and affects initially the top front teeth, later spreading to other "baby teeth." Because of the aggressive nature of this disease, early intervention is necessary.
The American Academy of Pediatric Dentistry (AAPD) and the American Academy of Pediatrics (AAP) recommend that ALL children should see a dentist before age one.
How Much Fluoride Is Too Much?
Fluoride is perfectly safe when used as directed by our dental office however there are some issues that can arise from using too much fluoride. Toxic levels of fluoride depend on person-to-person so it is important that you speak with us first before considering using a questionable amount of fluoride or if you have a child whose teeth are currently developing.
Fluorosis is a condition where exposure to too much fluoride causes defects in the tooth's enamel layer that often look like white patches or streaks across a tooth. In severe fluorosis cases, these patches or streaks can be brown, making them an extreme cosmetic concern and often embarrassing for many people with this condition. Fluorosis is most common in children developing permanent teeth where fluoride levels are not correctly applied and monitored. Still, it can become a problem for virtually anyone at any age.
If you believe you have fluorosis, please know that Dr. Locascio can help lighten or remove the stains to teeth caused by excessive fluoride exposure. Request an appointment or call our office directly at (916) 683-4333 to come in and have us take a look at your condition. In just one appointment, we can significantly reduce the cosmetic blemishes of fluorosis.
Silver Caps for Children
Recent controversy regarding the use of Stainless Steel Crowns (SSCs) in some states have led some parents to question dental care providers more thoroughly on their use and on other alternatives. SSCs have been used in dentistry for over 50 years for primary and permanent dentition.
For primary teeth, SSCs are usually placed on teeth that have extensive caries (where two or more surfaces are extensively involved), or teeth that have pulp treatment (such as pulpotomy or pulpectomy). We also use them in teeth that will remain in the mouth for a considerably long period of time; where other materials will not last long enough.
SSCs become loose and come out of the mouth just like normal primary teeth. They work just like normal teeth do, and require the same care. Alternatives to Stainless Steel Crowns do exist, particularly for front teeth. Usually these can be one of the following:
A prefabricated SSC that has a white facing bonded to it on the front.
A white cap fabricated with a white filling material (Usually we call these strip crowns).
A normal SSC that we modify by building a window in the front of it, which we later fill with a white filling material.
Pulpotomy
Baby teeth that have large caries (cavities) and some degree of pain occasionally require that the "coronal" (top) portion of that tooth's nerve be removed before a filling or a crown (preferably) is placed. The main goal of this procedure is to preserve the baby tooth, since baby teeth help to maintain adequate room for the permanent teeth. Pulpotomies have published success rates that range from 60% to 90% and represent a good and reliable way to save a badly decayed baby tooth.
Request an Appointment
Take the first step towards a beautiful smile with an appointment at Locascio Family Dentistry.