Dentures - Elk Grove, CA
Dentures & Partials at Locascio Family Dentistry
Full Arch Dentures
A full arch denture is a removable tooth replacement option for those who need all their teeth replaced. They can be crafted to provide the characteristics (tooth shape and color) the patient desires. Advances have been made in the materials used for dentures and in the way they are designed. If you already have dentures (partial or full arch) you may be experiencing a loose fit or denture slipping. This can lead to gum sores, can affect your chewing and your speech and decrease your confidence when speaking and/or laughing with others. We can help restore your dentures to the correct fit.
Why A Full Arch Denture?
If you are in need of replacing an entire arch of teeth, a full arch denture is going to be the most affordable tooth-replacement option. Additionally, not having any teeth causes mild to severe physical changes in your face mouth and lips. A full arch denture can restore some biting and chewing functionality and bring back a more attractive appearance.
Temporary Partials
Temporary or interim appliances serve many useful purposes and are often an integral part of a prosthetic treatment plan. These appliances can be designed to be either fixed or removable. This simple appliance is excellent for temporary replacement of front teeth while the patient is waiting for a permanent bridge, a partial, or implants. This removable interim bridge is made of a clear vacuum-formed material. The appliance simply snaps into place.
Partial Dentures
Removable partial dentures are composed of a metal framework with plastic teeth and gum areas. The framework includes metal clasps or other attachments, which hold the denture in place. Partial dentures are removed easily for cleaning.
Clasps are C-shaped, I-shaped, and Y-shaped parts of the denture framework that fit around neighboring natural teeth. These teeth may require shaping to help hold the clasps and keep the denture securely in place.
Why A Partial Denture?
A partial denture may not be the best option for replacing missing teeth but it is the least expensive tooth replacement option when compared to a dental bridge or a dental implant.
Benefits include:
Restore some biting and chewing ability
Better speech and pronunciation vs. having no teeth
Restore physical changes in your face, mouth and lips that were present without teeth
Bring back a more attractive appearance when smiling
Immediate Dentures
This type of denture is made to be placed in the mouth immediately after you have all your natural teeth extracted. This allows you to leave the office without the embarrassment of having no teeth while the gums heal from the extraction. The denture is made to conform to your mouth at the moment impressions were taken. Your gums will change drastically over the next few months and it is possible that the dentures will rub against the gums causing some soreness until the denture is adjusted. Most patients will require a realignment of their denture within the first few months due to the gums shrinking from the extraction of teeth. Another benefit of immediate dentures is the fact that the dentures act as a bandage to the extraction sites which covers the tooth sockets and prevents them from becoming irritated. Just remember, never remove the denture yourself, even for a brief moment unless your dentist has instructed you to. The gums have a tendency to swell when uncovered at first; and if you are without your dentures for a little while, they may never go back in.
Denture Instructions
Occasionally, it is difficult to adapt to full or partial dentures. At first they may feel loose, bulky and awkward while speaking. For a quicker adjustment period, follow these instructions:
At first, wear your dentures all the time.
Do not use adhesive unless Locascio Family Dentistry advises you to do so.
You should remove your dentures when you go to sleep.
After removing dentures, clean with a toothbrush and place in a bowl of water. They can be soaked in a commercial denture cleanser, but brushing them is essential.
Any signs of "sore spots," discomfort, or looseness that is causing you difficulty should be brought to our attention.
Never adjust the dentures yourself. Every person and every mouth is different; therefore, adjustment periods will vary.
Please remember that it will take time for you to become completely comfortable with your new teeth.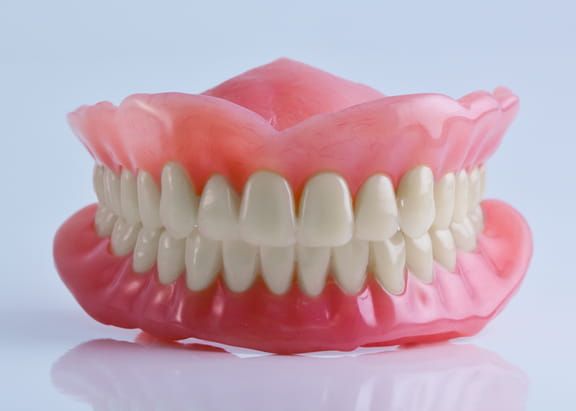 Denture Repair
We understand that dentures are an important investment for our patients, and that's why we're proud to offer comprehensive denture repair services.
Cracked or Chipped Dentures
One of the most common issues our patients experience is a crack or chip in the denture material. Whether it's due to an accidental drop or just regular wear and tear, we can help repair your dentures quickly and efficiently.
Loose Dentures
Another issue that denture wearers may face is a broken or loose denture base. This can be caused by the denture base becoming worn out over time, or by the denture not fitting properly. In these cases, our team can repair the dentures by reinforcing the base with a stronger, longer-lasting material such as acrylic or a metal alloy.
At Locascio Family Dentistry, we also understand the importance of a good fit, that's why our team also provides adjustments to dentures, including relining them to improve the fit, or adjusting the bite to ensure proper functionality.
It's important to note that while a denture can be repaired, they have a lifespan and if the damage or wear are extensive or it's an old denture, our team might recommend a new one.
At Locascio Family Dentistry, we want to help our patients enjoy a comfortable and confident smile. Our denture repair services can help extend the life of your dentures and make sure that you're able to speak, chew, and smile comfortably.
Request an Appointment
Take the first step towards a beautiful smile with an appointment at Locascio Family Dentistry.